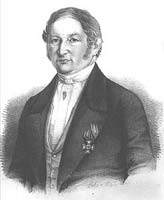 Friedrich Adolph Haage continued the tradition of his gardening family, which was living in Erfurt since the 17th century, and founded the company. He received his training at horticulture, at the court of the King Friedrich August of Saxony, from Johann Heinrich Seidel. The young Friedrich Adolph was allowed to take care of the plants and the cacti of the king. For his garden party, on the occasion of the visit of the King from Poland, King August wished to see the "Queen of the night" flower. But the plant got damaged by frost in the previous year. Due to his good care and to his skills Friedrich Adolph was able to fulfil the wish of his master and the "Queen of the night" produced flowers just in time for the big event.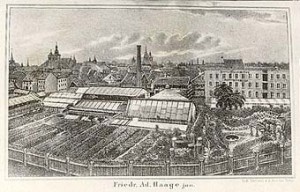 After some very successful wandering years he came back to his home town Erfurt and he founded his little trade- and seed gardening company in 1822. He brought a cutting from the "Queen of the night" to Erfurt, which had been given to him by the king who was more than pleased with Friedrich's work. Even if there were some obstacles the little company very soon developed to be an important horticulture company. Apart from his work Friedrich Adolph Haage still had enough time to occupy himself with the various species of the cacti. People began to owe Friedrich respect. He got the reputation to be a distinguished authority with a collection known to be the most extensive and the most entire collection of it's kind and time.
Besides his success as a cultivator and businessman, he had a very sensitive feeling for promising innovations. He was one of the first gardeners in Germany, who used an advertisement in the newspaper as marketing activity. Some experts say, that he was one of the founders of the commercial mail order business at horticultural companies. His first dispatch list came out in 1824 – two years after having founded the company. You can measure the success and importance of the business of Friedrich Adolph Haage jun. if you take a look at the visitors, who came and took a look at the company. Goethe, Liszt or Humboldt are just some of the big names which visited Kakteen Haage. Until today you can find his traces in modern horticulture.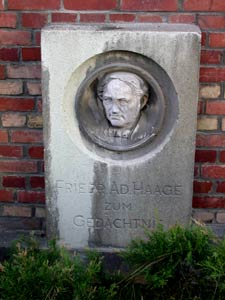 A lot of the founders of the big German gardening companies, which until today have an important name, went through the training of Friedrich Adolph Haage (for example: Benary, Weigelt etc). He was very active and well known in public life. Together with other gardeners from Erfurt he founded the gardening association of Erfurt. Due to his special contributions he became the honorary director of this association later on. After his death in September 1866 a monument was erected at the forest "Steigerwald" in Erfurt.