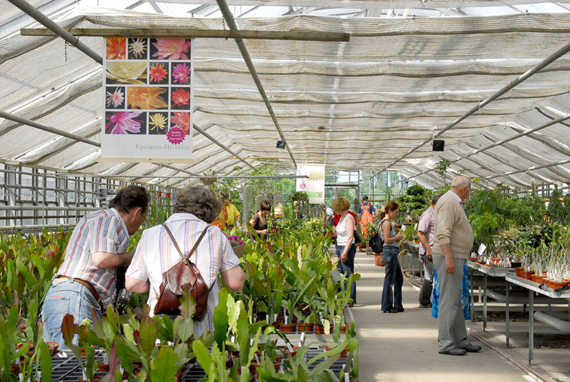 Do you look for a new special treasure for your window sill, greenhouse, or garden? Do you prefer optimized substrates and accessories for your plants? Do you like free care tips of professional cactus-gardeners?
We would be glad to welcome you at our nursery in Erfurt/Germany. In our 1,500 sqm large greenhouses we offer one of the most comprehensive ranges of more than 2 million cacti and other succulent plants of about 3,500 species. All our products are available at the nursery but also in our online shop.
At Kakteen-Haage, you are at the right place for everything cacti and succulents:
more than 3,500 species of cacti and other succulents, including many rare specimen
up to 1,200 different hybrids of Epicactus (Epiphyllum, Orchidcactus or Phyllocactus)
a good range of beautiful and rare Hoya-species
a wide range of seeds
substrates, fertilizer, pesticides and helpful tools for the perfect care of your plants
assistance and answers on (nearly) each question in the Kakteenforum (German)
rare Books and amazing paintings around the wonderful world of cacti and succulents
Our catalogue makes it easy to choose and our Online-Shop helps you to order your selection. We ship regularly to EU-countries and nearly every other place of the world.
If you want to come visit our nursery, opening times are Monday to Friday, 8 am until 6 pm and Saturday from 10 am to 3 pm. (from october to end of february: Monday to Friday 8 am until 4 pm and Saturday from 10 am to 3 pm)